Drilling accident leads to massive sinkhole, town under threat.
Videos
Latest Updates
Legal Expert: They applied for permits to dispose of radioactive and other waste in cavern below giant sinkhole… and the material is leaking out (AUDIO)

Bayou Corne Air Monitoring Reports

Environmental disaster on Louisiana bayou highlights radioactive hazards of oil and gas drilling

Assumption Parish- Bayou Corne Louisiana, Sinkhole Resident Update 09-29-12 Part 1
http://www.youtube.com/watch?v=ej1_lv-EmMQ

Louisana Governor's Office of Homeland Security & Emergency Preparedness
http://assumptionla.com/bayoucorne/gohsep

Officials upset by lack of salt dome info
http://theadvocate.com/home/3589330-125/officials-upset-about-lack-of

Dome issues kept quiet
http://theadvocate.com/home/3580029-125/dome-issues-kept-quiet

Drilling rig parts arrive at sinkhole site
http://theadvocate.com/home/3642925-125/drilling-rig-parts-arrive-at

Texas Brine offers residents checks, Cleanup of sinkhole halted; workers rescued
http://theadvocate.com/home/3651200-125/texas-brine-offers-residents-checks

SONRIS Well Data
1985 Napoleon Field well map
The Little Known New Madrid Pipeline Bomb

Of worthy note:
From the book "Salt-A World History" by Mark Kurlansky, Publisher Penguin Books Regarding Cheshire Salt Mines near Liverpool England (1800's to early 1900's.)
[P. 321-324] "The strange sinkholes that had been sporadically appearing in the eighteenth century had become…a regular phenomenon….The brine makers tried to continue blaming the sinkholes on the rock salt miners, … it became obvious that the location of the sinkholes bore no relation to the locations of mine shafts, and as sinking became more frequent, there were not enough shafts to explain the number of occurrences.
On the other hand there was an exact correlation between the increase in brine production and the increase in sinkholes…By 1880 400 buildings had been destroyed or damaged in Northwich alone."
"The truth was too much brine was being pumped from underneath Cheshire … as brine was removed, fresh groundwater took its place, and this water would absorb salt until the brine was once again one-fourth salt.
The problem was that if large quantities of freshwater that hungrily absorbed considerable amounts of salt were removed, they were replaced with large quantities of freshwater that hungrily absorbed considerable amounts of salt. Once that started happening, the freshwater began eroding the natural salt pillars that supported the space between the salt rock and the surface. When a pillar collapsed, the earth above it sank.
But even in the nineteenth century, when this process was understood, it was difficult to know whom to blame. The area around a saltworks might remain solid even though the brine it was pumping was causing the earth to collapse four miles away. Two or three other saltworks, though closer to the hole than the culprit, might have caused no damage at all." [The book also has a bit of info on nuclear waste storage in salt domes on pg. 439]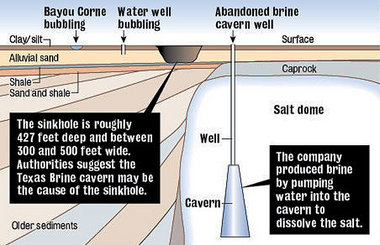 Texas Brine
Texas Brine Chemical Products
TBC-BRINADD
is a global provider of fracturing fluid additives which include polymer cross linkers, polymer breakers and stimulation additives. TBC-BRINADD (ISO 9001:2009 certified) is committed to providing effective fracturing and stimulation additives with Elevated Environmental Standards.
Brands:
Fracsal, Breake Systems, Inhibisal Ultra, Bridgesal-Ultra, Bridgecarb-Ultra, Hysal, OSS Pill, PBS Plug, Thixsal-Ultra, AO-System, Ultra-PF
TBC-BRINADD website
TBC-BRINADD Company info
---
Map Type
GeoJSON
---
Map Source
https://climateviewer.org/layers/geojson/2018/Bayou-Corne-Louisanna-Sinkhole-ClimateViewer-3D.geojson
---
More Info
https://en.wikipedia.org/wiki/Bayou_Corne_sinkhole
---
Attribution
Jim Lee, ClimateViewer News
Map: Bayou Corne, Louisiana Sinkhole by Jim Lee is licensed under a Creative Commons Attribution-NonCommercial-ShareAlike 4.0 International License. Based on a work at climateviewer.org/. Permissions beyond the scope of this license may be available at climateviewer.com/terms.

You are free to:
Share — copy and redistribute the material in any medium or format
Adapt — remix, transform, and build upon the material
Under the following terms:
Attribution — You must give appropriate credit, provide a link to the license, and indicate if changes were made. You may do so in any reasonable manner, but not in any way that suggests the licensor endorses you or your use.
NonCommercial — You may not use the material for commercial purposes.
ShareAlike — If you remix, transform, or build upon the material, you must distribute your contributions under the same license as the original.
---
Sharing is Caring