SMUD Cloud Seeding Bidding
California Bid Network: Cloud Seeding and Forecasting Services
-
Backup
Bid Date & Time: 08/30/17 5:00 PM - Prebid: 08/14/17 11:00 AM
Solicitation Title: Cloud Seeding and Forecasting Services
Owner Solic Number: 170175.AM
Status: bidding
Report: 7955784
Country : United States
State: CA
County: Sacramento
Location: Sacramento
Est. Low Value: $900,000
Est. High Value: $900,000
Scope: An on-call basis during autumn, winter, and spring, commencing in 2017. The work shall include releasing silver iodide into the atmosphere from aircraft-based or ground-based units during appropriate storms. Notes: PRE PROPOSAL CONFERENCE Monday August 14, 2017 11:00 A.M.
Buyer: Sacramento Municipal Utility District, Supply Chain Services Office
Address: 4401 Bradshaw Road
City: Sacramento
State: CA
Zip/Postal Code: 95826
TEL: 916-732-5600
FAX: 916-732-5601
Website: http://www.bids.smud.org
Contact: Andrew McDermott
Contact Title: Procurement Specialist
TEL: 916-732-5862
California cloud seeding projects winter 2004-2005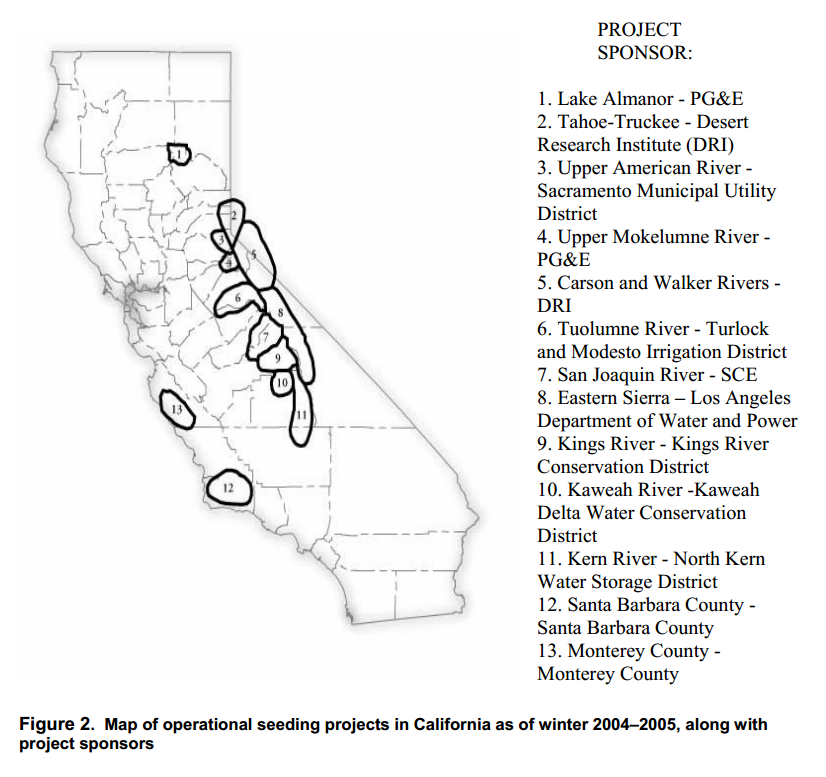 Lake Oroville Dam Failure
Oroville Dam is an earthfill embankment dam on the Feather River east of the city of Oroville, California, in the Sierra Nevada foothills east of the Sacramento Valley. At 770 feet (235 m) high, it is the tallest dam in the U.S. and serves mainly for water supply, hydroelectricity generation and flood control. The dam impounds Lake Oroville, the second largest man-made lake in the state of California, capable of storing more than 3.5 million acre-feet (4.4 km3).

In February 2017, the main and emergency spillways failed, leading to the evacuation of 188,000 people living near the dam. After deterioration of the main spillway largely stabilized[12] and the water level of the dam's reservoir dropped below the top of the emergency spillway, the evacuation order was lifted. - Wikipedia


Tags
---
Map Type
GeoJSON
---
Map Source
https://climateviewer.org/layers/geojson/2018/Oroville-Dam-SMUD-Cloud-Seeding-ClimateViewer-3D.geojson
---
More Info
https://weathermodificationhistory.com/
---
Attribution
Jim Lee, ClimateViewer News
Map: Sacramento, California Cloud Seeding Near Failing Oroville Dam by Jim Lee is licensed under a Creative Commons Attribution-NonCommercial-ShareAlike 4.0 International License. Based on a work at climateviewer.org/. Permissions beyond the scope of this license may be available at climateviewer.com/terms.

You are free to:
Share — copy and redistribute the material in any medium or format
Adapt — remix, transform, and build upon the material
Under the following terms:
Attribution — You must give appropriate credit, provide a link to the license, and indicate if changes were made. You may do so in any reasonable manner, but not in any way that suggests the licensor endorses you or your use.
NonCommercial — You may not use the material for commercial purposes.
ShareAlike — If you remix, transform, or build upon the material, you must distribute your contributions under the same license as the original.
---
Sharing is Caring